We've seen both Salma Hayek and Antonio Banderas share the big screen for decades and take it over internationally through a vast array of movies. Now the two of them have reunited once more, but this time with their voices as they lend them to two cute little cats in DreamWorks Animation's "Puss in Boots." Go ahead and read on as the two talk about their experience working with Chris Miller, the director of the adorable "Shrek" movie spinoff, and how popular the orange feline has become in recent years.
The story takes place before Puss met Shrek and Donkey, when he was a swashbuckling hero who protected the innocent. A bunch of old pub thugs tell him that two murderous outlaws called Jack and Jill have discovered an ancient power that can destroy the world. Puss then sets off on a journey with his old friend Humpty Dumpty who also introduces him to Kitty Softpaws, a sly black cat who takes an interest in Puss's journey. With his new sidekicks, Puss sets off on his most adventurous and dangerous journey ever.
ShockYa: Did you see the potential for your own film the first time you were offered the role of Puss in Boots? How do you feel now that the cat is becoming the star?
Antonio Banderas: In the beginning, it was just a recurring character. I didn't know that it was going to have a long career of 10 years now. I wanted to give him a voice that doesn't match his body. It goes in the exact opposite direction. Cats aren't supposed to talk like that. He doesn't even talk like me. I created a voice for him that is more deeper. I think in that contrast is the source of comedy. That creates the comedy. I think it was at the Cannes festival in 2004 for Shrek, in front of everyone, there were so many interruptions by the audience every time Puss talked. We were missing lines because people were laughing so hard at Puss. At the end I had a dinner with Jeffrey Katzenberg and he commented to me the possibility of a movie for just Puss.
ShockYa: How did you feel having Latino characters in a big movie, and to the rest of the cast, did you learn something about Latino culture by making the movie?
Antonio Banderas: I think it's better if the rest of the cast explains this. But, in fact, the original Puss in Boots fairytale, he was French. This is a victory for Spain.
Salma Hayek: First the World Cup, and now Puss in Boots!
ShockYa: It is very different being behind a mic and being in front of the camera. Did you find yourselves acting out behind the mic?
Antonio Banderas: I get really physical when I'm doing it. Sometimes Chris has to remind me to get closer to the microphone because I'm unaware of what I'm doing physically. It's just all amazing to me. I came to this country without even speaking the language. The fact that they call me to use my voice is such a paradox. When I got to America, I thought if there was something I could not do, it would be animation. Here I am. I know the thing is working when I see the guys in the booth laughing. It's embarrassing to say this, but it's easy. It's fun. You don't feel like you're spending so much money as when you are doing live action. There's 200 people there, spending all this money with each passing minute. In animation, if you want to throw out whatever comes to your mind, you're allowed to do it. Chris will not say, 'Don't do that.' You're putting together pieces of a puzzle. You take all that work and all these fantastic people on the creative side of the movie will put this together.
Salma Hayek: I'll tell you one thing that got really physical with Chris and I. One day in recording in who knows what scene in the studio and the wall came down on us. I'm not kidding! We are alive by a miracle. How it missed both of us, we still don't understand. The studio wall broke and fell! I was very physical that day — I ran fast.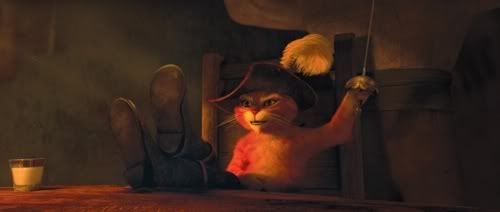 ShockYa: How did Guillermo del Toro help you with the performances?
Antonio Banderas: He was kind of supervising the editing. I suppose to a certain point, because he is Mexican, just checking how all the Latino feeling of the movie was portrayed. He visited the studio, maybe once. You feel secure in that aspect that the Latino is there.
ShockYa: How did you prepare for this character and did you think of her as a sexy cat?
Salma Hayek: I didn't prepare. I never got to see the script. Chris never showed me the script! I just showed up blind. There were no drawings or anything at the beginning. Chris would just describe the scene to me. It reminded me of my grandmother who would tell me the most amazing tales and you had to imagine everything. It was like that. He walked me through the production design. Then, we did the scenes.
ShockYa: You're very successful as an actor. Are you looking forward to having young kids as fans and having them discover you in Puss in Boots?
Salma Hayek: I sure hope so because I'm too old. The ones who have followed me are getting older with me and they don't want to go to the movies anymore. So, I need a new generation or else I die. (Laughs)
"Puss in Boots" makes its way into theaters this Friday.