It's been years since we've last saw our favorite group of positive-thinking frogs, pigs and weirdos on the big screen in their own movie. Now they're finally back with the James Bobin-directed film "The Muppets" which dips us into the nostalgia pool and properly introduces the beloved characters to a whole new generation of movie-goers. It may have been a gamble but these filmmakers pulled off what easily is one of the best movies of the year.
"The Muppets" focuses on three residents of Smalltown, U.S.A., which are Gary (Jason Segel), his girlfriend Mary (Amy Adams) and Walter, a super fan of the Muppets. During their trip to Los Angeles, Walter finds out about Tex Richman's (Chris Cooper) scheme to buy up the Muppets theater and drill for oil unless the group is able to made ten million dollars in a few days. The three then get the Muppets group back together as they not only try to raise the money by putting on a show but rediscover why they always fit so well.
We got the great opportunity to sit down and talk to director James Bobin, producers Todd Lieberman and David Hoberman, writer Nicholas Stoller and music supervisor Bret McKenzie about everything having to do with the Muppets, including the possibility of one day bringing back "The Muppet Show."
ShockYa: If as stated the Muppets are enduring and loved, why did they go away? Have you guys done any kind of a … ?
Bret McKenzie: They went on holiday.
ShockYa: Have you done any kind of a post mortem on why they disappeared for so long?
Nicholas Stoller: Well, I think it's less about them having gone away and more about when, and I will just speak for myself. When I was a child back then they were all pervasive. They had a television show. There were movies. They were all over the place. And they didn't necessarily go away as much as they kind of scaled back on how much product they put out. I think that's probably more accurate.
David Hoberman: I think it also had to do with the sale of the company and the sort of false starts with that and being taken over. It takes time to figure out a game plan for what you want to do with a franchise once you get it.
ShockYa: My question is for Bret. Is there a lot of similarity between writing songs for The Muppets and the Flight of the Conchords?
Bret McKenzie: Yeah, at least six jokes but yeah very similar.
James Bobin: Bret actually is a Muppet.
Bret McKenzie: Yes, I guess Jermaine was killed and I lost Miss Piggy. (Laughs) Yes, I mean the film had very specific song placement. So I had to write them to fit new characters and everything, but it's not that dissimilar to writing for the Conchord set up.
James Bobin: Yeah, for me going from Conchords to Muppets felt very, I think the same job basically. Conchords was basically a world whereby everyone was slightly, had sort of a weird world view and they were all a bit scared.
Bret McKenzie: They were stupid. Basically, they were stupid.
James Bobin: A group of fools maybe and the Muppets in a similar sense. They are all very optimistic but they are all kind of inherent failures. They aren't good at what they do, and I love that about because you instantly feel for the underdog. And I thought that was a very similar thing with Conchords and Muppets. They had a very similar tone in that sense, but also obviously the music and the sort of innocent charm of the comedy. I felt that the comedy was a very similar thing. And they had different writing for the Muppets than they did for Conchords so the job had a very natural progression.
Bret McKenzie: The jokes are weaker?
ShockYa: Miss Piggy isn't a failure.
Bret McKenzie: Well, I think she is because she considers herself to be a great singer, and she's not a great singer for example. And she considers herself to be a great actress and she's not a great actress.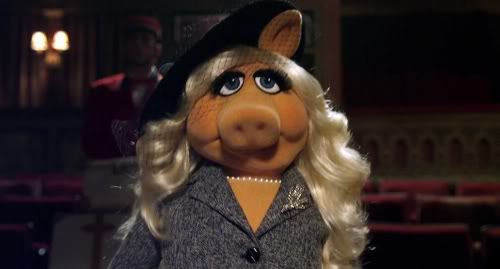 Nicholas Stoller: And a great beauty.
James Bobin: And a great beauty. I mean, I guess maybe she is.
Nicholas Stoller: She's beautiful. What are you talking about.
James Bobin: Oh, all right, all right, she's beautiful. Obviously, she's beautiful. Yeah, I think it's your idea of what you are to yourself and then what you are to other people. It's that kind of idea I guess.
ShockYa: So with The Fundraiser, it's kind of set up more or less like the Muppet Show. Was the reason for that just because kids of this generation …
James Bobin: Yes, please do The Muppet Show.
ShockYa: Yes.
James Bobin: Yes!
ShockYa: Well, that and I was going to ask you if that was because children of this generation aren't familiar with The Muppet Show? Was that another reason? And is there any possibility we'll get The Muppet Show again, and Miss Piggy is a beaut.
James Bobin: What a question.
Nicholas Stoller: Yes, yes, yes, yes and yes.
James Bobin: The telephone was always in the script from the very beginning the idea they would do something. I think one of the great joys of the movie is the simplicity of the story of putting on a show again. And so, I think that was always going to be in it. It grew because we liked making it, and we love songs. And I wanted to remind people. And I couldn't do them really well, but I just said the Muppets were great. I had to show them being great. This is really important to me. And so, obviously one of the best ways of doing that is to do The Muppet Show, Muppet Show style sketches. And they were really fun to write and they were really fun to shoot and it was just something that we informed people of where the Muppets were from, what they did and why they were great.
Todd Lieberman: And there were discussions during the course of the development of the script of do we spend too much time in that theater at the end? And what we came to realize is that as James is saying, the fun, the excitement, the sketches, the vibe, the feel of it makes it feel bigger than just a theater.
James Bobin: And also for the people who know the show, it's really fun to see behind the scenes of the show. Again, when Kermit goes out to say, "Hello, welcome to Telethon." It's that shot of him beforehand being nervous a bit like this is the final go, and I love that idea. And also, I used to always wonder. In the Muppet Show you see Kermit behind his desk, and I always used to wonder, "What does Kermit see when he see the other way?" So I asked David to build a theater where you would see what Kermit used to see.
David Hoberman: It was also important to you to be meticulous about that, opening about the theater and to make sure that you gave everybody the Muppet experience exactly as it was when they saw the show.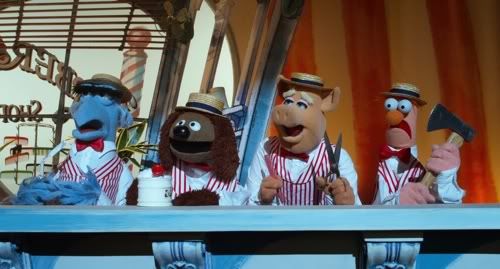 James Bobin: Yeah. Well, the idea was that they would do the opening to the best of their current ability. You know what I mean? I knew we were going to get that eventually, but this is their moment again. And it's why there were some empty holes in the top row because some of those guys weren't around, or they forgot where they were supposed to go. You know what I mean? They were kind of making it with the best effort they can. But at the same time reminding people of what that show once was.
Nicholas Stoller: Also from a practical standpoint, if you need money, the only way to get money is to put on a show. So that's the other thing about that plot point.
ShockYa: This is for Nicholas. I was wondering. You rate up both ends of the comedy spectrum from the R-rated and with Marshall and Give it to the Greek and something like this or Gulliver's Travels. Do you find a hard rating it in when you're writing for kids? Or what is the difference in your process, and do you have a favorite end of the spectrum? Do you enjoy one type of comedy more than the other?
Nicholas Stoller: Well, for some reason Disney made me cut out the Kermit full frontal.
Todd Lieberman: But he always is full frontal.
Nicholas Stoller: Yeah, that's what they kept saying and I'm like, "We know he's really not." So that was the big bummer for me. But I think the kind of movie it is just creates its own kind of story, and it's own kind of, and this is obvious, it's own kind. You want be true to the material. You want to be true to the story you're telling. At no point in writing the Muppets with Jason did it seem appropriate to do anything that would be R-rated. Similarly, on the R-rated side of the scale like with Sarah Marshall, you can't have a breakup with a girl or a guy and not curse at some point. So there was no way to do that I thought without it being R-rated. So I think it always becomes part and parcel and genre and of the story you're telling.
"The Muppets" comes out in theaters everywhere this November 23rd.