If you're familiar with the original "Footloose" then you remember that it was filled with a bright new cast of young actors that plenty of movie goers have never seen before. Now we know who Kevin Bacon and Sarah Jessica Parker is, but back when the 1984 movie came out they were fresh new faces. Craig Brewer follows those casting footsteps from the original for the remake of "Footloose" as he brings another new batch of young Hollywood actors front and center for the nation to see.
One of those new actors is Ziah Colon who's making her feature film debut in the music-filled comedy-drama "Footloose." The bouncy young actress sat down and talked with us about landing the role, working with Craig Brewer and just having a good time on set.
ShockYa: First off congratulations, this is your first big feature film. How did you end up landing the role? Did you have to go through a long audition process?
Ziah Colon: Yes, audition process. I was an actor in Atlanta and then this audition kind of fell in my lap. I wasn't aware that they were remaking "Footloose" until my actual audition so I was super excited. My scenes for the audition were from the original film so I had no idea what the remake was going to be like.
ShockYa: Had you seen the original?
Ziah Colon: Yes, I've seen it various times. I didn't watch it to prepare for my character but I've already seen it. Then after my first audition I didn't hear anything back and my friends were getting call backs and I wasn't so I thought I was out, that was really upsetting. And then two weeks later they called me back in and they were like 'Hey, can you come back in?' 'Of course!' That week I had three auditions, one with the casting director and then two with Craig (Brewer). By Saturday he called me and he said 'I have two questions: One, how do you pronounce your name and two you're playing Rusty Rodriguez.' By Wednesday we were already working, Rusty was the last piece of the puzzle.
ShockYa: Oh wow, so were they already shooting by that point?
Ziah Colon: No, they weren't shooting but they were already in pre-production.
ShockYa: Obviously your character spends a large amount of time with Willard, what was it like working with Miles (Teller)?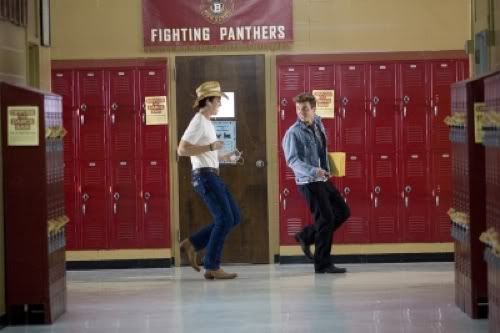 Ziah Colon: I love him, he's so much fun. He's so funny and charming and he's so much fun to watch because he's just this ball of fun energy. So we got along immediately because we're both Southerners and we both kind of have joking personalities so we hit it off. We're also serious actors so we sat down and made sure that our work was done. We sat down and created a backstory for our characters and we just played.
ShockYa: Did you pull any pranks on anybody on set or anything like that?
Ziah Colon: No because we were all so new we were very careful about that…
ShockYa: You sounded kind of scared in the sense of like 'I kind of don't want to be fired on my second day of shooting.'
Ziah Colon: Exactly! But it was a lot of fun. We joked, we laughed, we had a great time.
ShockYa: And is dancing something you've been doing ever since you were little?
Ziah Colon: Nope. (Laughs) We've always danced in my family but I've never had any classes. I was not a professionally trained dancer.
ShockYa: But you've been doing acting more or less since you were little?
Ziah Colon: Yes, always. I was in theater and we had dances in high school drama but I kind of have a feeling that doesn't really count…
ShockYa: Well if it's prom or homecoming then it might not count.
Ziah Colon: When I got in I didn't have to audition dancing but then when we met with the choreographer I was a little nervous because everyone around me was a professional dancer. Miles (Teller) and I are the only ones who weren't professional dancers so it was a little intimidating but it was so much fun. We had a blast making this movie and I just really hope that the audience has fun watching it because we had so much fun making it.
ShockYa: And now that you're fresh off your big feature role, are the offers pouring in?
Ziah Colon: Well I don't know about pouring in… (Laughs)
ShockYa: Well you can always exaggerate at this point, it's all text anyways.
Ziah Colon: So yeah, they are pouring in, I just don't know what to do with them! (Laughs)
ShockYa: You just have to turn down one after the other, poor thing!
Ziah Colon: But anyways, we'll see what happens. I have a couple of options but right now we're just focused on press for "Footloose."
ShockYa: Well you guys have been doing press for a little while now, correct?
Ziah Colon: Yeah, it's actually been a really cool couple of months, it's just been "Footloose" mania and it's just been a lot of fun.
ShockYa: And I'm sure it kind of freaks you out just seeing yourself on a poster.
Ziah Colon: That's been so crazy. The first one that I saw I just couldn't believe it. I knew that I was in "Footloose" but I think it didn't really hit me until I saw billboards all around Los Angeles. It's so neat to be here when my movie is about to be released because in Atlanta they don't promote movies as much for billboards and stuff like that.
ShockYa: Well it's more so television advertisements than anything else over there.
Ziah Colon: Right, so to see it here has just been really, really cool.
ShockYa: Did you learn anything in particular while working with (Craig) Brewer and the others? Especially since a lot of you are relatively new to the film scene, was there any advice that you took to heart?
Ziah Colon: Yes. I learned so much, this being my biggest film project because I've done film before but I've never been on a film set for this extended period of time. There were little lessons that I learned here and there and habits that I created that I want to continue. I'm so serious about my acting, about what I'm doing that I don't take my phone on set. I don't do that and I think that's a good habit to have because I want to be ready at all times, stay in character and ready to go. Now there's one phrase that Craig (Brewer) taught me that I'll always use and it's 'Save it for Elvis. Don't go there all the way just yet, save it for Elvis. Get up there then give it your all.'
ShockYa: Did it set in that you were basically taking on the role which helped launch Sarah Jessica Parker?
Ziah Colon: Well… (Laughs) It's surreal, it's a surreal experience. There is pressure on me now because I was like 'Oh my gosh, they're very opinionated about us making a film.' I don't know, it's a little nerve-wracking in a way.
ShockYa: But at the same time it's cool.
Ziah Colon: It's very cool, I love it. I'm so proud of "Footloose," I've seen it five times… (Laughs)
ShockYa: I think you like the film just a pinch.
Ziah Colon: Just a little bit! Yeah, I'm one of those actors who swore to never watch themselves. Then I saw the movie the first time and I was like 'Wow, this is really good.' And then the second time I was like 'I'm going to critique myself' but I got so lost in the story that I didn't. I think that says so much for what Craig (Brewer) has created that even me, who's my own worst critic, can get lost in the story and not worry about me.
"Footloose" is out in theaters today. Check out your local theater for show times and more information.
Facebook Comments