Hollywood's award season is always a time filled with stress, especially for those who tend to follow every other list of nominations that pops up between now and late January. It's not just stress from those distributors and studio folk who hope that their possible Oscar contender will make the cut, but from press and dedicated movie-watchers like us who bitch and moan the minute a favorite film of theirs doesn't get awards love. Well, you can't please them all, which seems to be more and more apparent as recent years have gone by. Perhaps it's because I find myself even more engrossed in the fall awards season craze, but it feels like the printed and blogged shouts from many cinema fans is louder than ever.
The Hollywood Foreign Press Association announced their list of nominees for the 2011 Golden Globe awards this past Thursday, which you can read here. Where the Oscars are the main course of the awards season, the Golden Globes tend to be the salad or soup dish that holds down your appetite until it's time for the real meal, meaning that there are a certain number of folk who acknowledge the existence of the Golden Globes but don't take it as seriously as the Oscars. Although some of you may not place the Golden Globes as far up the awards season food chain as the Academy Awards, I still compiled a little list pointing out some of my nitpicks about the list of nominees in the movie categories.
Misplaced Ryan Gosling Love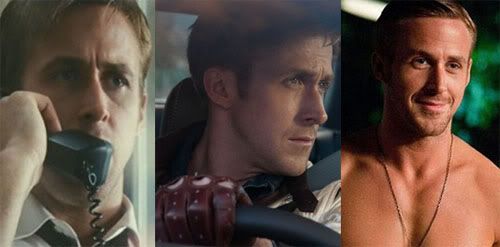 Which Gosling is the right one to nominate?
Yes, I went and saw "The Ides of March" and must admit I wasn't that impressed with it. It may have to do with a script that felt it should have been made fifteen years ago, but to have Ryan Gosling be nominated for best actor for this particular film is a bit strange. What was even more strange was to find that Gosling was nominated for every other film he did this year (which was only three) except for one: "Drive." Some of you may be groaning as you read this, but his performance in Nicolas Winding Refn's gorgeous September-released film was far superior than what he delivered in "The Ides of March." "Drive" will end up being in my top ten for the year, and as much as I'd love to see the movie be nominated for multiple Oscars, I fear that the only person who will get a nomination/more than likely win is Albert Brooks. Well, at least he's getting the recognition he deserves.
Just Give "The Artist" Every Award Already, Sheesh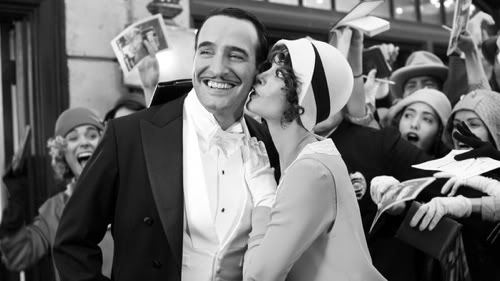 People just won't stop slobbering over this film.
If you live in Los Angeles like I do then you know that "The Artist" is on everybody's lips. It's a simply directed movie that relies more on it's lack of dialogue in order to give it more bravado. Talk to me a couple of weeks ago and I would have given "The Artist" all sorts of love, but now it's like seeing your girl being willingly passed around. Everyone adores the film, it may get Best Picture and/or win the Oscar, but boy am I tired of it. Surprised that "The Artist" isn't nominated for Best Animated Feature or Foreign Film at this point in the Golden Globes since it's nominated for almost every other thing in there. Normally this kind of crazy attention on a film doesn't get to me but in this case it does. Some may say it's a taste of my own medicine, since I've been so in love with other almost equally hyped up movies like "Drive" and "Attack the Block," but it doesn't really feel like that.
Madonna Song > The Muppets Soundtrack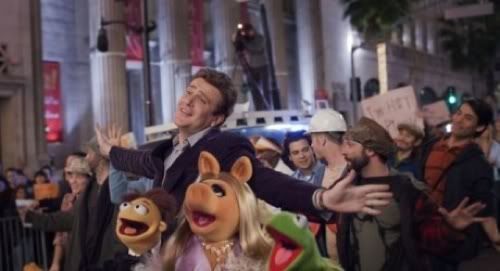 The Golden Globes definitely aren't Muppety men/women this time around.
Blame my never-ending love for those felt creatures, but it felt like the little vein in my head began protruding when I found out that Madonna's "W.E." song beat out anything from "The Muppets" for a Best Song nomination. There are some who have complained that "The Muppets" didn't get nominated for Best Comedy or Musical, but that I won't defend, mainly because I kind of don't want to see "50/50" loose a nomination spot. Let's face it, they never would push out the other four nominations. Yes, especially "Bridesmaids" because apparently including one summer film in the list equals hopefully more viewers. Anyways, it's one of those situations where you easily know that between Madonna's "W.E." song and "Man or Muppet" that the latter is the more memorable between the two. But alas, the nominations have already been placed in virtual stone.
There's Still Some Life In "50/50" And "Bridesmaids" Left!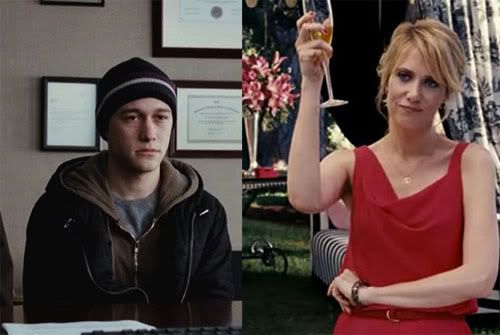 And these two look so enthused to be nominated.
Okay, I understand that it's a long shot for "50/50" and "Bridesmaids" to be nominated at all at this year's Academy Awards but the hope I have for that dream is rising once more. This is another case for me where I hope that films I enjoyed get the recognition a million times more than other movies during the year. Some people coax the reader with a number of seemingly elaborate reasons as to justify their reasoning one but in the end they should just say that they think this film is great and everyone else should think so too, basically implying a heavy amount of bias on the feature. Hey, it happens to all of us, including myself with these two movies. Will they walk away with any of those shiny Golden Globes in their hands by the end of the night? Who knows, but it is thrilling to see them in the running.
Side note: I'm not exactly a hundred percent behind placing "50/50" in the comedy section. If you've seen the film you'll understand why.
It's George Clooney's Year… Again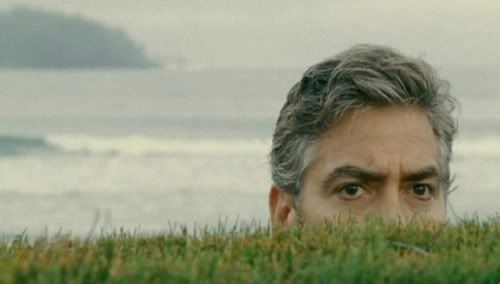 Come out Mr. Clooney, we won't hurt you. We think you're great.
I love George Clooney as much as the next movie-goer, but you'd be a fool to say that he won't walk away from the Golden Globes empty handed. He's an Academy darling so to see him receive a number of nominations isn't too surprising. Although if he ends up winning Best Director over Martin Scorsese or Woody Allen I may start yelling at the screen in great anger. Regardless of that, the best of luck to the talented actor/filmmaker.
Where's The Love For Kirsten Dunst And Michael Shannon?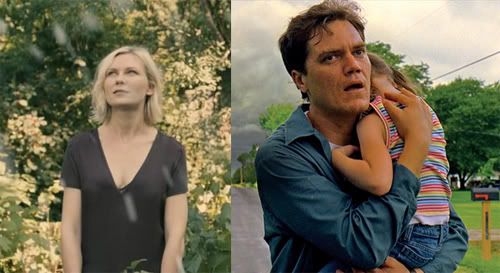 They can't all be nominated… I guess.
Although plenty of my colleagues and friends alike would say that it's useless to be upset over the choices that the Hollywood Foreign Press Association made with this batch of nominees, I can't help but be pissed off over a couple of acting snubs for the drama category. Both Kirsten Dunst for "Melancholia" and Michael Shannon for "Take Shelter" bot gave equally great performances. Granted, neither of the films are my pick for the best movie of the year, but it would be silly to not acknowledge their wonderful acting range in these two pictures. Between Dunst's character swimming in the deep dark seas of depression to Shannon's role as a man sinking deeper into paranoia, these performances are better to be seen than merely talked about. It disappointing to not see either of them nominated, but at least Tilda Swinton ("We Need To Talk About Kevin") and Michael Fassbender ("Shame") are in the running.
As much as movie-goers may bicker over the nominations and eventual winners, most of us will still end up watching the telecast. These award shows may be predictable to a fault, but it's still thrilling to sit back in your chair and watch a pretty presenter say the name of the winner. The 69th Annual Golden Globes will be taking place on January 15th, 2012.