Every other girl who's watched the animated Disney movies has a particular princess that's their favorite. It could be the wishful Snow White or the fiery Jasmine, but one of my favorites always happened to be Belle from "Beauty and the Beast." Instead of singing about how much she'd love to find true love, the girl is craving adventure. She ends up getting her wish in a rather enchanted way as she is entangled in a action-packed love story.
The film captures the fantastic journey of Belle (voice of Paige O'Hara), a bright and beautiful young woman who's taken prisoner by a hideous beast (voice of Robby Benson) in his castle. Despite her precarious situation, Belle befriends the castle's enchanted staff–a teapot, a candelabra and a mantel clock, among others–and ultimately learns to see beneath the Beast's exterior to discover the heart and soul of a prince.
Who better to talk to about "Beauty and the Beast" than the voice of Belle, Paige O'Hara. In our interview below she talks about the best traits about Belle, working with Robby Benson and even a part of the film that got altered.
ShockYa: Well you're Belle, you're the voice of Belle. What's the one part of Belle's personality that you've always loved the most? The one thing you believe makes her stand out in comparison to the other Disney princesses?
Paige O'Hara: I love the fact that she's more independent and her goal in life is to learn about life and books. She's not single-handedly wanting to go out and just to find a prince, to find a man. The fact that she's more independent than that. I also love the fact that she's totally willing on the moment to sacrifice her life for her father. I thought that was an amazing part of her character that was brought in by Linda Woolverton. Then of course she falls in love with the Beast but she's able to see past how he looks on the outside and sees his soul. She falls in love with him not for the way he looks but the person that he is. It was a lot of firsts in a lot of ways with a Disney princess.
ShockYa: That and a lot of people consider her to be the smartest of the Disney princesses because she'd rather read a book and find out more about the world instead of just sitting at home pining for a prince.
Paige O'Hara: Absolutely, that's exactly what she was and that made her an incredible role model for young kids who see the film now. I know that Disney did a survey and found out that a lot more young ladies were reading books than before the film came out which was great.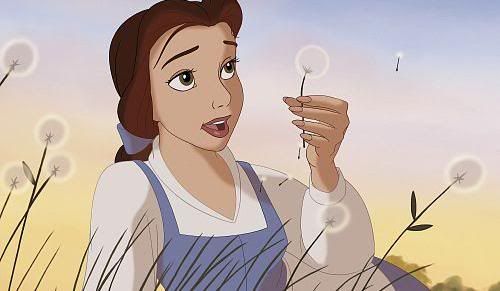 ShockYa: Yeah, it made reading books look really appealing to young girls like me. [laughs] How was the whole recording process back then with Robby Benson?
Paige O'Hara: The recording process was amazing. Robby (Benson) and I worked on it for over two years. We were able to convince them to let us record together, which they don't normally do. They normally isolate you in a booth. It took more time and money to put us together but ultimately the development of that relationship between Belle and Beast was better because we were together. Robby is such a great actor and he certainly made my performance better. I'm so grateful that they allowed us to do it that way. They didn't really worry about money on this movie, they took the time. In fact there's a whole sequence, it took several months worth of work, where "Be Our Guest" was sung to Maurice, the father. The crew realized that it needed to be sung to Belle so they ended up throwing out months and months of work, came back in and redid the whole process and the whole song. So this film was truly a labor of love for them. They did not rush it out, they just took their time making it right.
ShockYa: Wow, I never knew that about "Be Our Guest." You learn something new everyday. [laughs] You've voiced Belle multiple times ever since "Beauty and the Beast," how does it feel knowing that you're part of the Disney family forever? That whenever anybody mentions your name you're automatically associated with Belle.
Paige O'Hara: I know. Essentially I feel very blessed. I've been a working actress my whole career, my whole life, but doing this all has given me a sense of security and a lifelong capability of doing constant work because I'm always going to be the voice of Belle. Every six years there's a new generation of kids who love her and it's given me a lot of freedom in my career. Also now that I've been painting for Disney I'm now an artist for Disney. That's also another wonderful thing, working as an artist with them and painting portraits of Belle, Beast and other characters.
ShockYa: Wow! Where can we see your artwork? I'd love to check it out.
Paige O'Hara: Definitely check it out! It's Disney Fine Art.com. You can also go on my website and you'll see probably more paintings on there, Paige O'Hara.net.
ShockYa: Is there any fun memories you have of recording with Robby Benson?
Paige O'Hara: Oh yeah, it was amazing. He was hired a month after I was. Then there was an article I think in The Hollywood Reporter or one of those magazines that talked about myself, Angela Lansbury and a bunch of the Broadway people in the cast. They understood the casting but then asked "What's up with Robby Benson?" Robby Benson is a brilliant actor and he has that kind of range vocally, we know his range in terms of bringing that kind of heart to the character, but vocally they didn't have to do anything to change his voice. What was fascinating about Robby was that he had this big, scary voice but he also sounded like there was a twenty-year-old kid underneath it. You can still believe that there's a twenty-year-old voice behind it. The other Beast they cast was just a little too frightening. You couldn't hear that extra element in his voice. When Robby was cast, then that's when it was all connected. He really is the heart and soul of the film.
ShockYa: So what are you doing right now on stage?
Paige O'Hara: I've been living in Las Vegas for several years and I'm actually starting my seventh year of "Menopause: The Musical." I'm playing the aging soap star, kind of like Susan Lucci. She's the opposite of Belle, she's kind of vain and totally bratty. It's kind of a wonderful piece because it's all about accepting middle age and embracing it rather than being afraid of it. So being able to do that every night keeps my chops together. We go on for an hour and a half, we're very funny, we make people laugh, we sing a few fabulous songs and that's it! It's a good gig.
ShockYa: That's great! Since you're part of the Disney family and surely you've watched many of their films, what other Disney princess films do you like other than your own?
Paige O'Hara: I love them all. I love "Mulan," "The Little Mermaid" and I love "Snow White." I love them all for different reasons. Each princess has their own little special quality to them. Belle is definitely the most intelligent one of them all. They're all wonderful in their own way.
"Beauty and the Beast 3D" is out in theaters nationwide.
Facebook Comments