The new generation is more or less desensitized to the section of horror that deals with the heavy gore and carnage that we see in almost every movie of this genre nowadays. We're far away from the days where the real literal meat of horror was carved away from the camera and now see it as close up as possible. One of the men who we can thank for pumping up the gore in front of our eyes to the max is Eli Roth, the same man who made "Cabin Fever," the "Hostel" saga and even produced the disturbing found footage film "The Last Exorcism." The famed horror filmmaker is being honored in a couple of weeks with the prestigious Shocking Filmmaker of The Decade Award, and why wouldn't he? The man helped start up a new grotesque and wonderful fascination with horror again, thanks to the now-titled "torture porn" section of the genre, along with bringing more audiences to theaters, further pumping blood into the sector of film that's been going on for years.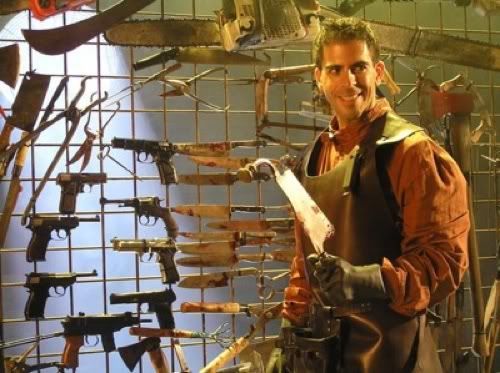 Director, writer, actor and producer ELI ROTH will be honored November 19th with The Shocking Filmmaker of The Decade Award at the 5th anniversary of the Shockfest Film Festival. The Award will be presented at The Hollywood Hard Rock Cafe following a special 9:00 pm screening of Roth's Cabin Fever (at Raleigh Studios Chaplin Theater).
"Eli Roth is being honored for his decade of brilliant and shocking films -– as an actor, writer, director, and producer of Cabin Fever and Hostel I & II, as an actor in Quentin Tarentino's Inglourious Bastards and, most recently, as producer of The Last Exorcism,"explains Robert "Corpsy" Rhine (Girls and Corpses Magazine's Deaditor-In-Chief) who will present Roth with the Golden Spiked Head at Shockfest's closing ceremonies.
Festival Director Guil Claveria describes Shockfest as, " The Ultimate Horror Shock Film Festival, a multimedia extravaganza which brings together horror aficionados and fans alike with premier status indie films from all over the world along with a haunted house, dinner theater and the Miss Shockfest pageant."
After receiving the award (in his name) The Eli Roth Shocking Filmmaker of the Year Award will be presented annually at The Shockfest Film Festival to horror filmmakers who most deserve this shocking honor.
Facebook Comments